Our History
Greenlake Primary Care is an independent full service primary care medical clinic. Our doctors have specialties in Pediatrics, Internal Medicine, Family Medicine and Psychiatry (adult/child/adolescent). Founded by Anna Chavelle M.D. in the 60s and later transferred to Mary Starkebaum, M.D. in 2001, the clinic has been caring for families for over 50 years. The current owner, Naomi Busch, M.D., took over the practice in 2011 and continues their legacy of excellence.
Dr. Busch was recognized as a Top Doctor by her physician peers in 2016. Committed to patient centered care where you and your doctor work together to heal and stay healthy, Greenlake Primary Care would love to serve you and your health care needs. Come visit us to see why we have some of the most loyal patients in Seattle!
Our Support Staff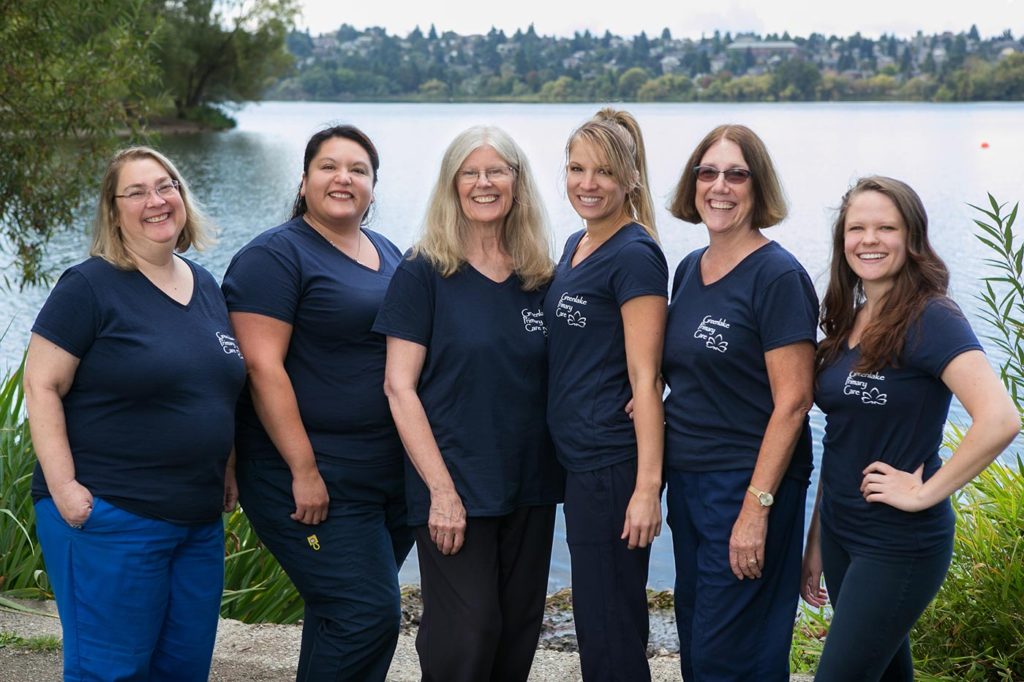 Carrie, Victoria, Sue, Jillian and Vicki (pictured left to right) are our wonderful staff at Greenlake Primary Care. Carrie works as the main scheduler. You will speak to her on the phone when you make an appointment, and she will welcome you when you arrive at the office. To facilitate the billing, Sue works directly with our billing staff at Physician Billing Partners. She can also assist you in paying a bill, payment questions, and many of your insurance questions.
We are extremely proud of our team of certified medical assistants. Jillian, Victoria and Vicki work together to help the clinic flow and ensure that you will have minimal wait times. They will bring you to the exam room, check your medication list, weight, and blood pressure. They may also draw blood, give vaccines and perform EKGs. Victoria has taken on the task of Vaccine Manager and, under her guidance, the clinic has successfully reached Gold level (for pediatric vaccines) through the state of Washington's immunization program!
The medical staff has more than 20 years of combined experience. They arrange for tests done outside the office, schedule consults, research and pre- certify referrals and take care of medication refills. They will also return your phone calls to collect more information and relay a plan back to you from the provider. They are the front line for your medical care and we appreciate all that they bring to our office.
Billing
Physician Billing Partners does the billing, and checks the clarity, promptness, and accuracy of the bills to ensure that you get the coverage you have paid for. Call them at 206-932-9025, if you have questions about your bill. Or you may talk to Sue in our office.